"Top Employer" for the tenth time in a row
Any company intent on offering customers excellent products needs highly trained and committed employees – in short, top talents. To attract, inspire and retain them over the long term, we focus on providing excellent working conditions, optimized development opportunities, and above-average employee benefits. Our efforts have recently been acknowledged for the tenth time in a row by another prestigious Top Employer award.
"Our workforce is the beating heart of our company. That's why we strive to create a work environment in which employees can feel comfortable and are able to unlock their full potential. We aim to be a dependable, attractive employer that provides outstanding working conditions," explains Klaus Remmler, Senior Vice President Corporate HR at Knorr-Bremse AG.
The independent, globally active Top Employers Institute regularly acknowledges the ongoing focus of Knorr-Bremse's HR strategy and management on employees' continuing professional and personal development by presenting the company with the "Top Employer Germany" award. The award is based on a review of six primary HR criteria plus 20 key HR categories such as People Strategy, Work Environment, Talent Acquisition, Learning, Wellbeing and Sustainability. Only companies that satisfy the review's strict quality criteria following an in-depth research and auditing process are eligible for certification as a Top Employer. This also means that to comply with the annual audit process, Knorr-Bremse must collect a great deal of data and evidence showing what actions the company has taken in the various categories under review. To enable the auditors to see the whole picture, the collected evidence is both quantitative and qualitative.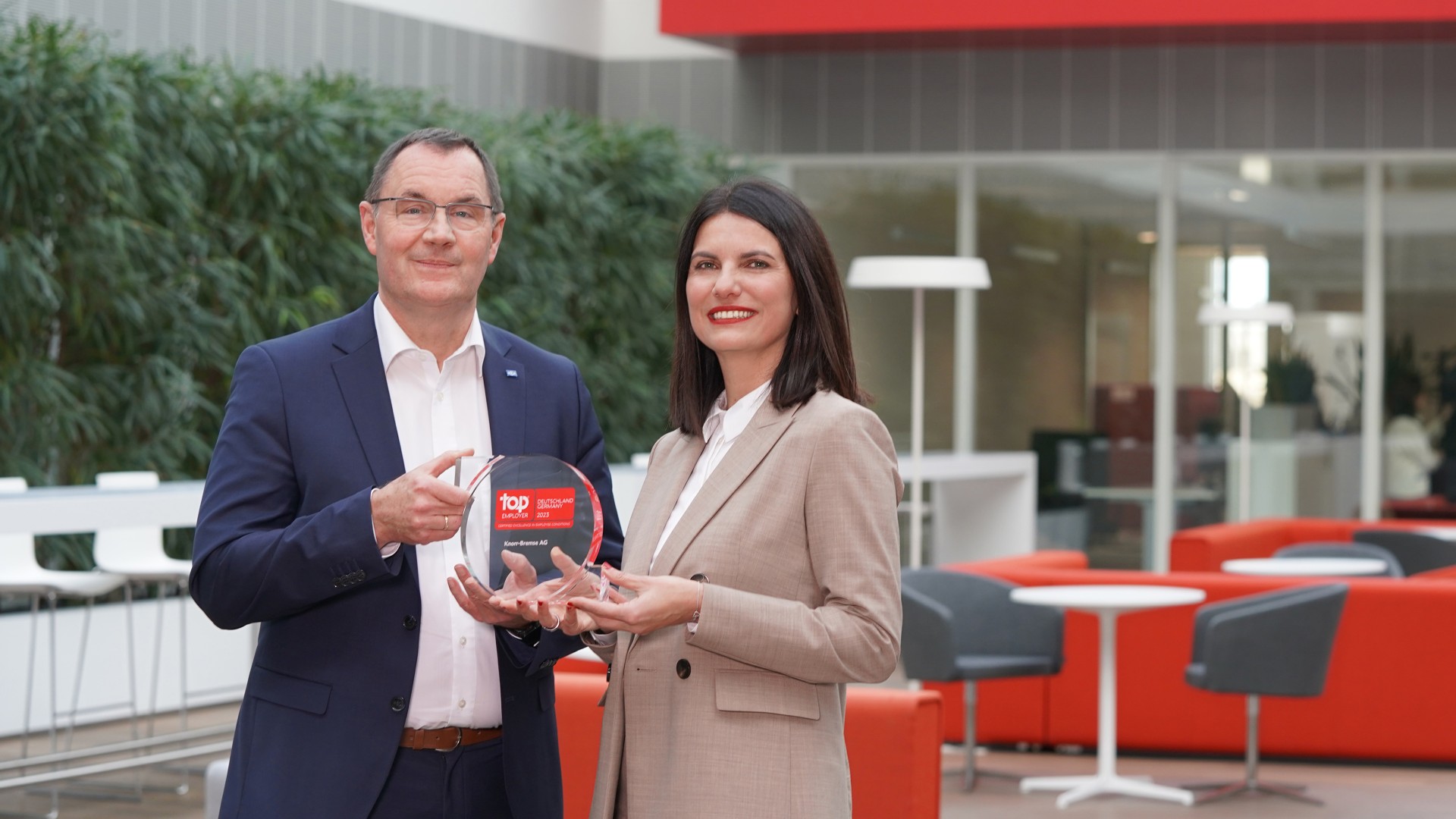 Klaus Remmler (left), Senior Vice President Corporate HR at Knorr-Bremse, and Berna Tulga-Akcan, HR Specialist University Marketing, are proud to accept the Top Employer award on behalf of Knorr-Bremse for the 10th time in a row. Berna Tulga-Akcan has been involved in Knorr-Bremse's audit process since the first round of certification began in 2014.
The journey is also the destination
"Among the many employer certification programs, it wasn't easy to filter out the one that would best meet our own requirements as a company. After all, simply being certified as a 'good employer' doesn't necessarily mean you are one! That's why we felt it was important, right from the start, to choose a certification body that would subject our policies and practices to rigorous scrutiny and show us where we could make further improvements," explains Remmler. It was also important to ensure that instead of a flash in the pan, the certification process was a recurrent, long-term undertaking that would make it possible to track improvements and regularly benchmark the company's standards against the competition. "Our renewed Top Employer certification is a major coup for our HR strategy precisely because of the current shortage of skilled workers. And for applicants in particular, it represents a trustworthy, independent proof of quality which they can use as a guide," adds the Senior Vice President.
The first Top Employer review took place in 2014. Since then, Knorr-Bremse's companies in Germany – Knorr-Bremse AG, plus the Rail Vehicle Systems and Commercial Vehicle Systems divisions – have all been certified. Every year, the review questions are updated and adjusted. And as time goes by, the list of questions is extended to include new categories such as Diversity & Inclusion and Digital HR. "When we introduced our ONE HR transformation program, we were essentially launching a major digitization project. Since then, we've been modernizing our HR structures and digitizing and standardizing our processes. That's why we've been able to make such big improvements in this category in particular – this is an area where we beat the benchmark. We've also made progress in the Diversity & Inclusion category by introducing a women's network and a 'quota policy' for increasing the proportion of women in management-level positions, but we haven't quite achieved the benchmark standard in this area yet," continues Remmler.
For Knorr-Bremse's HR management team, the audit process clearly pinpoints those areas with potential for further improvement. This includes the Employer Branding category. "We've realized that we've got to take action here, and that's why we're currently planning a global employer branding campaign that will help strengthen our brand messaging as an employer," reveals Remmler.
In the Wellbeing category, Knorr-Bremse once again performed above average this year compared to other members of the Top Employers community. "In addition to an attractive salary, we offer an interesting employment package that includes numerous benefits aimed at improving our employees' wellbeing. With a company healthcare management program, support services for families and dependents in need of care, excellent in-house catering, plus remote work options covering up to 40 percent of working hours, we've put together a great package for our coworkers in Germany," believes the Head of Corporate HR.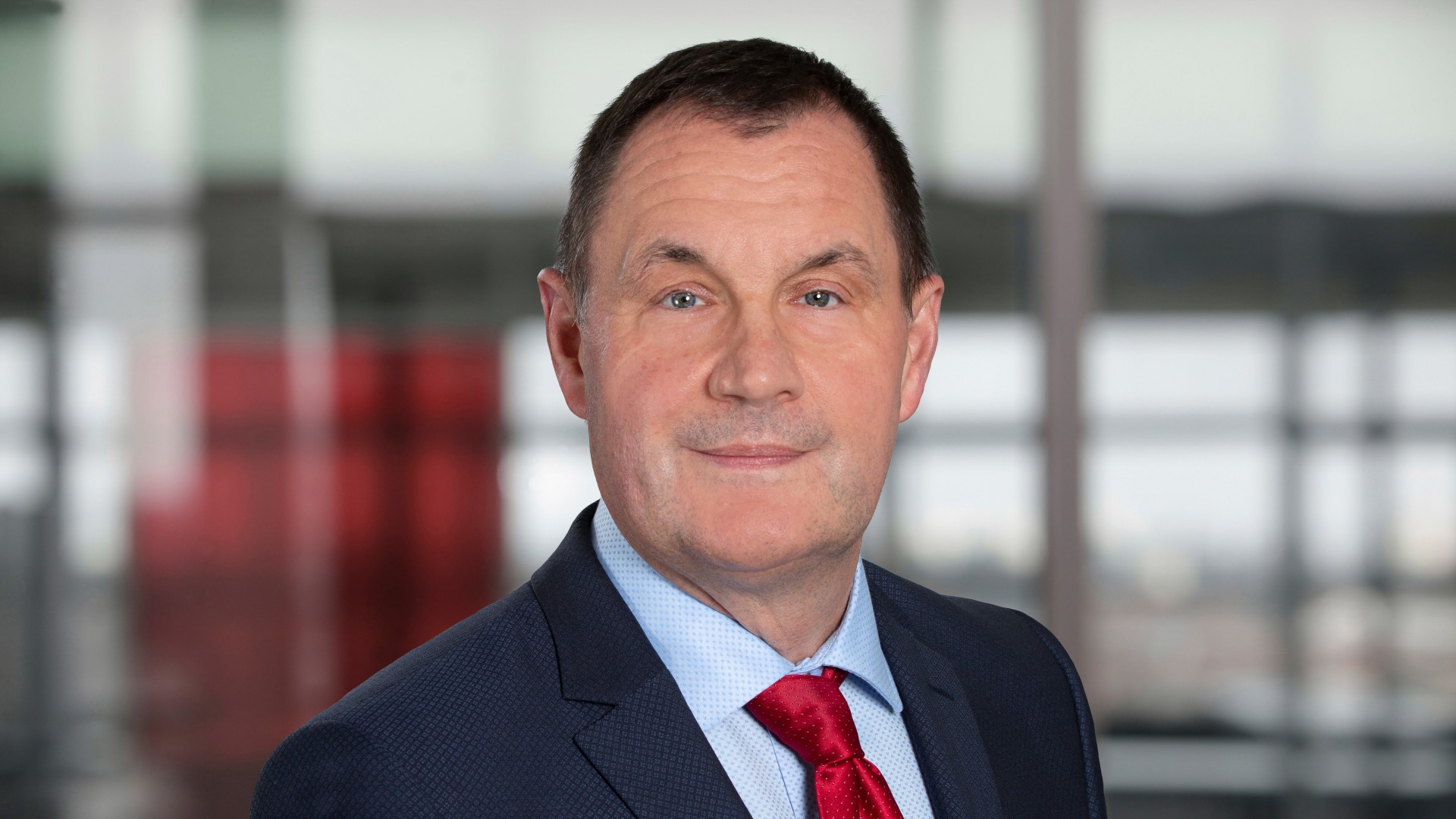 In addition to an attractive salary, we offer an interesting employment package that includes numerous benefits aimed at improving our employees' wellbeing.
Klaus Remmler – Senior Vice President Corporate HR at Knorr-Bremse AG
What distinguishes an attractive employer?
Just for example, Knorr-Bremse employees can choose from various working time models, depending on their jobs. To satisfy the desire for an optimum work-life balance, weekly working hours can be flexibly adjusted to suit family circumstances. In many departments, employees can also choose where to work, thanks to flexible remote work options. "Around one third of our 5,500 or so employees in Germany work in production. Generally speaking, remote work isn't a realistic option for production team members, so we try and provide them with equally attractive offerings. As well as a high-tech, ergonomically optimized workplace in a state-of-the-art digital environment, we offer extras like sports and healthcare programs, plus advisory sessions on best-practice ergonomics. Many production employees also find the option of switching over to a phased-retirement program very attractive," explains Remmler. Supplementary financial benefits such as a company pension plan, generous occupational disability cover, an employee stock program, savings management services, paid vacations, bonuses and one-off payments, all provide additional security for employees in Germany.
"At Knorr-Bremse, we don't just offer our employees exciting jobs, but also something they can identify with. Many of them take pride in our products and feel a special sense of purpose in their work," continues Remmler. The company takes pains to create the right conditions for a working atmosphere that enables team members to flourish. At the same time, the principle of lifelong learning plays a major role in keeping skilled workers fit for the future. "In view of the digital transformation of the workplace, and the accompanying changes to so many different jobs, we also prioritize continuing education with a focus on specific needs and target groups. Digitization and automation won't happen overnight – we're in the midst of an ongoing process which, as a company, we facilitate by providing new methods and tools for acquiring skills and sharing experience," Remmler explains.
The company also aims to fill as many positions as possible internally – including management positions. In-house Development Centers help to identify and develop potential leaders at an early stage. Subsequently, prospective managers may be enrolled on national or international talent programs, in which networking plays a major role alongside dedicated, multi-module training courses. In principle, all employees should have the opportunity to actively shape their own careers, with the focus on individual development opportunities that provide intensive training in personal and professional skills and competencies. With this in mind, Knorr-Bremse also offers employees mentoring programs and coaching sessions.
"In my view, the challenges we face as a result of digitization, increasingly flexible working practices and the general shortage of skilled workers, also represent an opportunity. We're constantly under pressure to be creative and come up with new offerings and solutions – that's the only way we'll stay competitive in the labor market over the long term. And because the audit process regularly obliges us to take stock, it also helps us to take a close, self-critical look at the way we do things and stay on the ball. I think we're heading in the right direction – but even so, there's still plenty to do," concludes Remmler.