Leadership at Knorr-Bremse. Adding value.
We have condensed our requirements and principles for good leadership into five core aspects. Our convictions, which guide our managers in their dealings with employees, are formulated in these Leadership Principles.
For Knorr-Bremse, good leadership means creating a working environment in which employees can fully realize their potential. We regard this as the basis for our company's performance, its ability to innovative and its enduring success. All our activities are grounded in our corporate values. Our managers bear a special responsibility to breathe life into our values on a daily basis.
Transformational leadership: role model, mentor, inspiration
Our Leadership Principles guide our managers in this task. They are based on the concept of transformational leadership, which calls for leaders who:
aspire to be role models;
inspire their teams and fuel their desire to reach shared goals;
stretch, encourage and appreciate each individual;
fill their roles with meaning, so everyone understands the "why" behind what they do.
With these five core ideas, our managers lead our employees toward optimal collective performance and results. The basic prerequisite here is a genuine interest in other people, because this is what enables leaders to align each individual's ongoing development with their personal strengths.
The Knorr-Bremse Leadership Principles
All our managers at Knorr-Bremse are given sufficient scope to strengthen their leadership quality on the basis of our guidelines, to review it on an ongoing basis and to further develop their personal leadership style. Learn more about the Leadership Principles at Knorr-Bremse: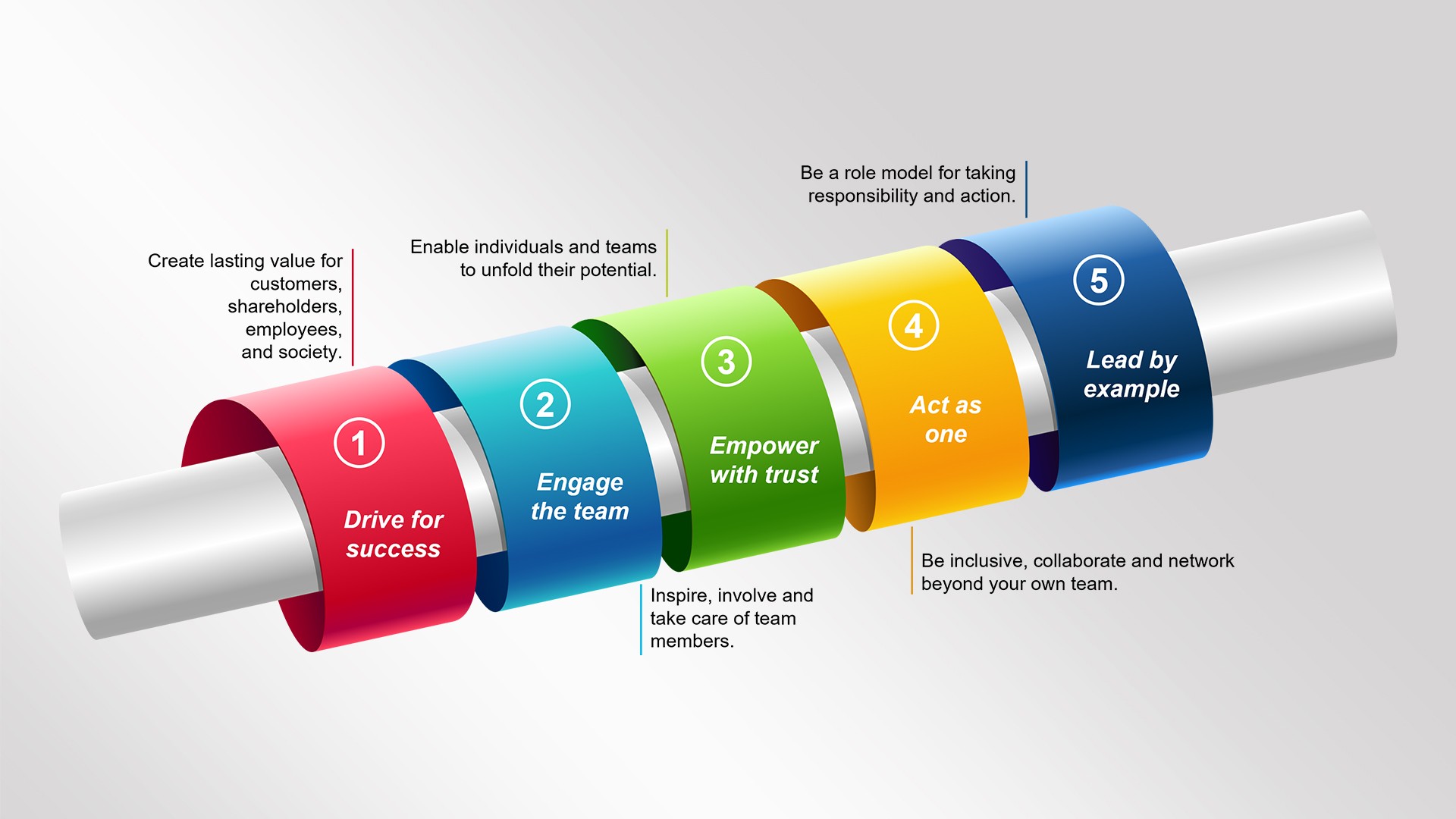 Further information on Knorr-Bremse culture
Our foundation.
The culture prevalent at Knorr-Bremse is expressed in the way we collaborate, the way we operate, the way we envision the future and the high standards we set for ourselves.
Read more



Our vision. our drive.
"We want to be the global driving force behind innovative and sustainable system solutions that make mobility and freight transportation safer, more reliable and more efficient. We ourselves are driven by the desire to add value for our customers while also making a positive contribution to society."
Read more



Growing with our values.
Entrepreneurship, Technological Excellence, Reliability, Passion and Responsibility. These five values describe who we are. They act as a compass for the way we do business and the way we treat our colleagues, our partners and society.
Read more



For people and the environment.
Knorr-Bremse considers itself a responsible company. With sustainable corporate management, we take responsibility – towards our employees, customers and business partners, as well as for the environment and society. Today and with a view to the future.
Read more



Excellence is our standard.
To fulfil our mission of making mobility on roads and railways safe, sustainable and environmentally friendly, we strive to get even better every day. That's why excellence is our standard at Knorr-Bremse.
Read more






Back to overview: Group