For the Hoffmanns, their old industrial hall is a treasure trove. Many spare parts and even entire trucks await their next lease of life here.

From MAN to Magirus-Deutz and Mercedes: there are always several old treasures being simultaneously restored and repaired in the workshop.
Great passion for vintage trucks. Turning old into new.
Hoffmann Nutzfahrzeuge and the adjoining Nutzfahrzeuge Veteranen Center (NVC) in Oberhausen are the top European addresses for friends of classic trucks. Helmut Hoffmann and his son Sascha have been passionately restoring vintage trucks there for three decades and they have a unique stock of spare parts for all kinds of classic trucks.
Brake systems are of absolutely critical importance to the haulage industry. This was already the case back in the 1950s and 1960s. Helmut Hoffmann, who is now seen as something of an icon in the classic truck scene thanks to his own collection of vintage vehicles and his expertise in restoring all brands of trucks, remembers: "Back then, as a trainee truck mechanic at the Büssing dealership Spieker in Duisburg, I spent a lot of time in the workshop. And I constantly witnessed how important it was for transport companies to get good and fast service." Installing Knorr-Bremse spare parts such as brake valves and brake cylinders was also part of his daily routine. "Most importantly, there could be no long downtimes, because the trucks were continuously in use," says the 74-year-old.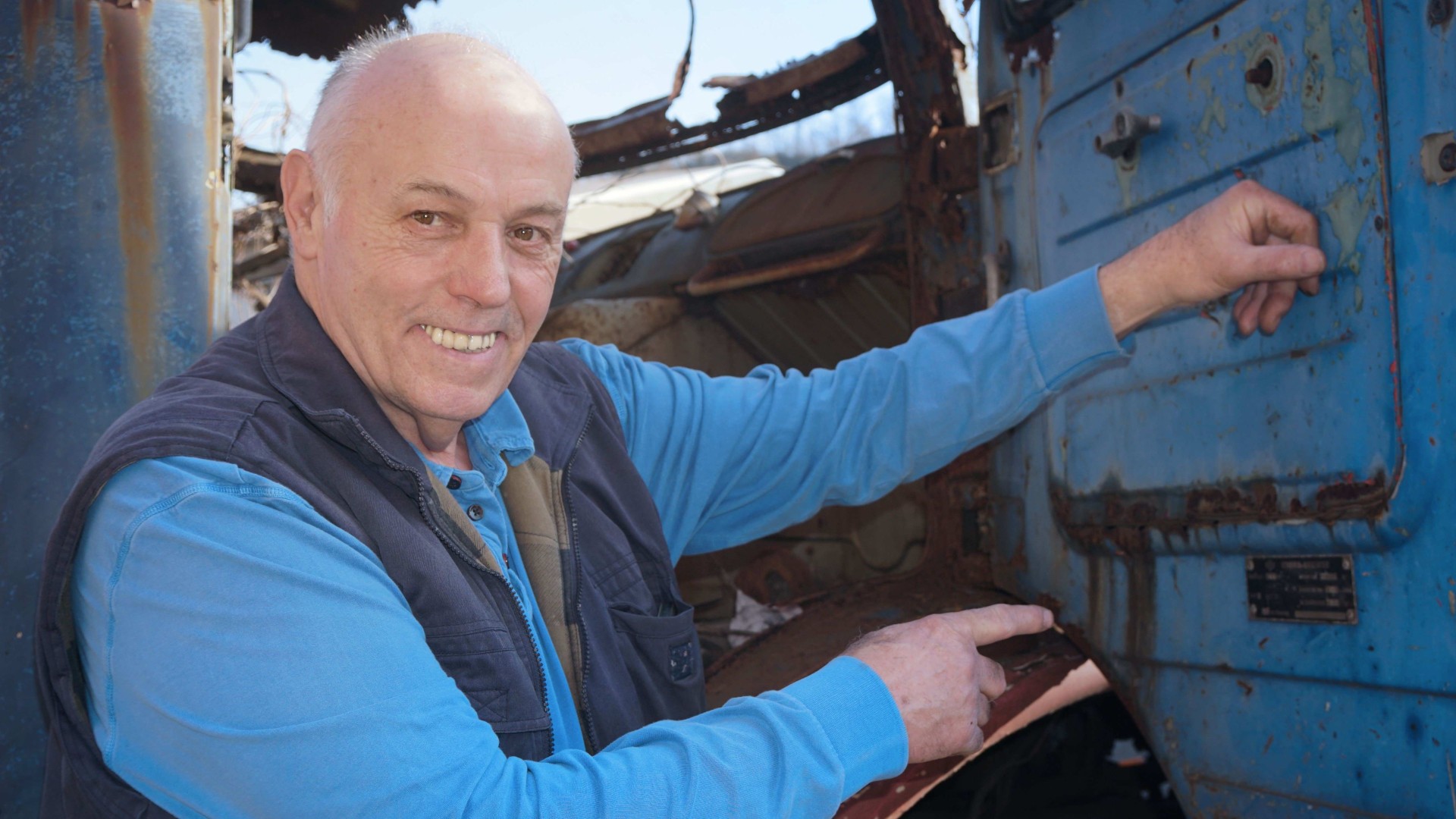 Even back then, there were no supply bottlenecks with spare parts from Knorr-Bremse. You could always rely on them.
Helmut Hoffmann – Owner of Nutzfahrzeuge Veteranen Center (NVC), points to a Knorr-Bremse nameplate in the passenger door of a MAN truck from 1968.
In the years that followed, Helmut experienced first-hand how crucial it was to be constantly on call for repairs and to have a direct line to the manufacturer in case of queries. Hoffmann had long since taken over his parents' haulage business and was operating over 50 trucks with his drivers. "In those days, the single-wire brake was standard. And the trucks were handled quite differently. Having perfectly functioning brakes basically ensured the survival of the haulage companies and their drivers," he explains. This was another area where spare parts from Knorr-Bremse proved indispensable. "The big advantage was that there were virtually no supply bottlenecks. And if a part went out of stock, all it took was a simple phone call to the neighbouring workshop and the problem was solved. You could always rely on that."
Rare gems of German commercial vehicle history
Hoffmann recounts the restoration of his own 1952 Krupp Titan, which already had Knorr-Bremse parts fitted at the factory. This rare gem with two 105 hp engines is the pride and joy of his collection and a showpiece of German commercial vehicle history. "But other manufacturers such as MAN and Büssing also used Knorr-Bremse technology," adds his son Sascha. The 41-year-old is himself a master mechanic and passionate restorer. In the workshop he is currently restoring a MAN 10.212 HS Haubensattel from 1963. On its chassis you can actually see a complete brake system assembly with spring accumulators, pressure regulators, brake valves and brake cylinders. Also in the yard is a beat-up MAN truck from 1968 with a typical Knorr-Bremse nameplate of the time in the passenger door.
Europe's largest collection of historic trucks
Nowhere else in Europe can vintage enthusiasts find such a large selection of historic trucks. And nowhere else houses such an impressive stock of spare parts for truck restoration. It is hard to imagine, but on the roughly 50,000-square-metre company premises with the old industrial hall, Helmut Hoffmann has put aside and collected every part that could be needed over the past three decades. For Hoffmann senior, there is no such thing as "scrap". "This is cultural heritage on wheels. Nothing gets thrown away, because spare parts that are no longer available to buy are the basis for restoring classic vehicles."
This also applies to the stock of Knorr-Bremse spare parts from decades gone by. An entire wall shelf is filled with them, and desperate classic truck enthusiasts from all over Europe often call the colleagues in Oberhausen in search of rare parts. But Sascha Hoffmann has a well-documented record of all the models ever built - and years ago he stocked up on the spares from various specialist workshops.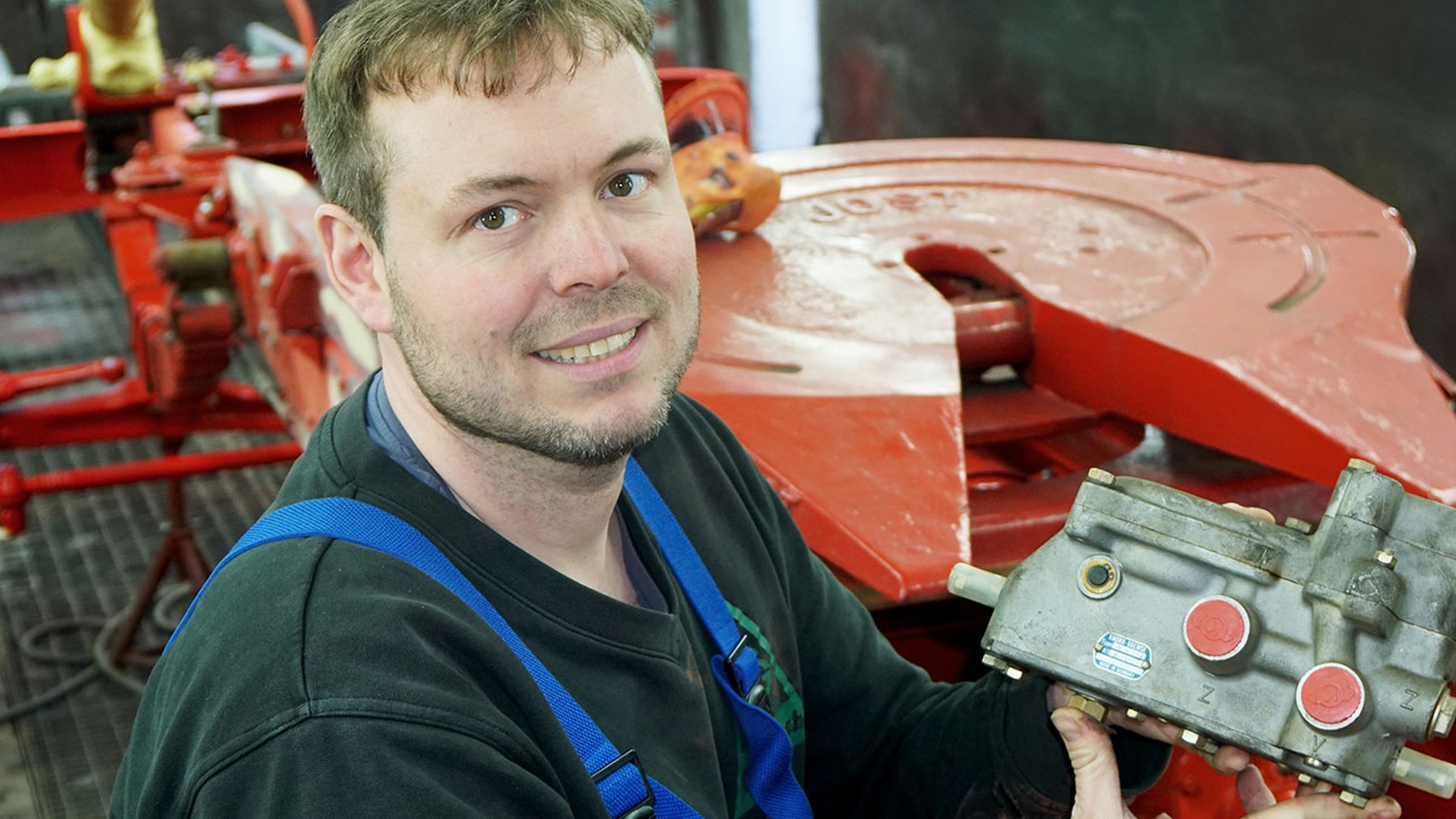 Especially with historic commercial vehicles, the brakes are an extremely critical safety factor, and the TÜV inspectors keep a close eye on them. This is because of the comparatively long standing times of these vehicles, which frequently lead to water deposits and rust.
Sascha Hoffmann – on the chassis of the MAN 10.212 HS. Its brakes are from Knorr-Bremse, too.
The issue is especially relevant in times of Covid-19, because the usual classic vehicle meet-ups and rallies have not taken place. As a result, many brake systems have to be refurbished because the vintage trucks have hardly been moved in the last year.